Box Main
The all in one smart box with dongles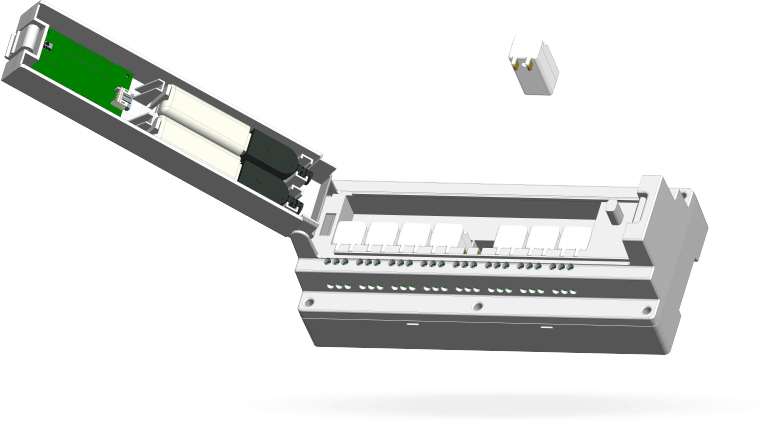 This din rail mounted box with dongles is "simply fabulous"
Gerber PrimeBox looks ok, but it's really one lean mean machine boasting 8 output slots that can control just about anything with plug n' play dongles. The 8 outputs correspond to 8 inputs, so the unit can be used from the start without programming. Four additional inputs can be used to run scenarios without the app, and the input method can also be easily changed from push button to switch.
On/Off (8A)
Dimmer
Blinds
Shutter
Dry contact
Gerber PrimeBox is an integrator's dream come through. Built to adapt and scale up in the future, it supports a wide range of voltages, including dry contact, 5V, 12V, 24V, and 230V outputs. It is this kind of forward-thinking that makes our PrimeBox the ultimate unit for both private and commercial use.
Home automation
Office automation
Retirement homes
Hotels
Access control systems
Building management (BMS)
Irrigation systems
Alarm systems
Server rooms
Many more…
Compatible with just about anything
By default PrimeBox communicates via RS485 or IP (WiFi or rj45). By simply adding a dongle to one of the two USB ports, the box supports Z-Wave, LoRa and ZigBee. A one-time installation of the all-in-one box PrimeBox ensures support and compatibility with just about any system or device from any manufacturer.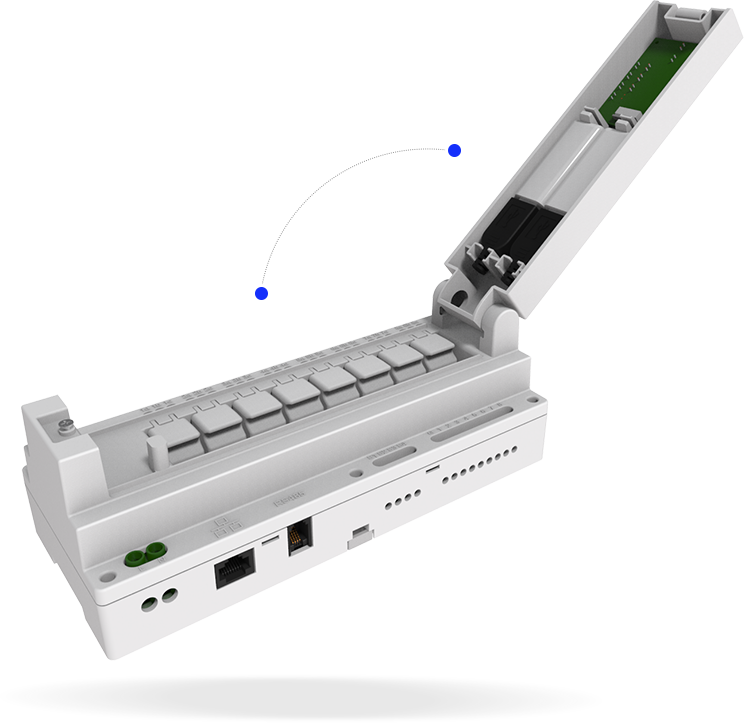 Imagine a built-in Gateway
In addition to all inputs, outputs and scenarios, PrimeBox can even serve as a standalone network gateway in your home or office – saving space and eliminating the need to buy another gateway. The prime advantage of our box especially comes into use in commercial spaces such as hotels and office buildings. The Z-Wave protocol enables to connect up to 232 elements to a single gateway. Gerber PrimeBoxes are designed to connect sequentially to one another via IP. This uniquely enables to create a very large integrated system that controls everything with up to thousands of connected elements.
Wireless sensors that make energy saving sense
The flexibility to connect wireless sensors to PrimeBox relays – with or without the embedded PrimeSwitch motion, temperature and light sensors – make smart energy consumption powerfully easy. Using our convenient external wireless sensors to control electrical appliances, you can automatically orchestrate your smart home environment to make a positive impact on your monthly electric bills. That way, your lights and A/C won't be running uselessly overtime
The tremendous freedom that PrimeBox offers is further enhanced when combined to work in harmony with the the versatile PrimeSwitch via RS485 or Z-Wave. Empowered by plug n' play dongles that add more functionality, our products create the most universal automation system that is easy to work with and adaptive to future advancements.